Products with ELD "HAELD3"
Below you will find a list of products with the ELD "" obtained from our database, including their available manuals, documentation, and images.
Click the corresponding vendor name to obtain additional information on the manufactorer, as well as contact information for further troubleshooting.
Haulin' Ass ELD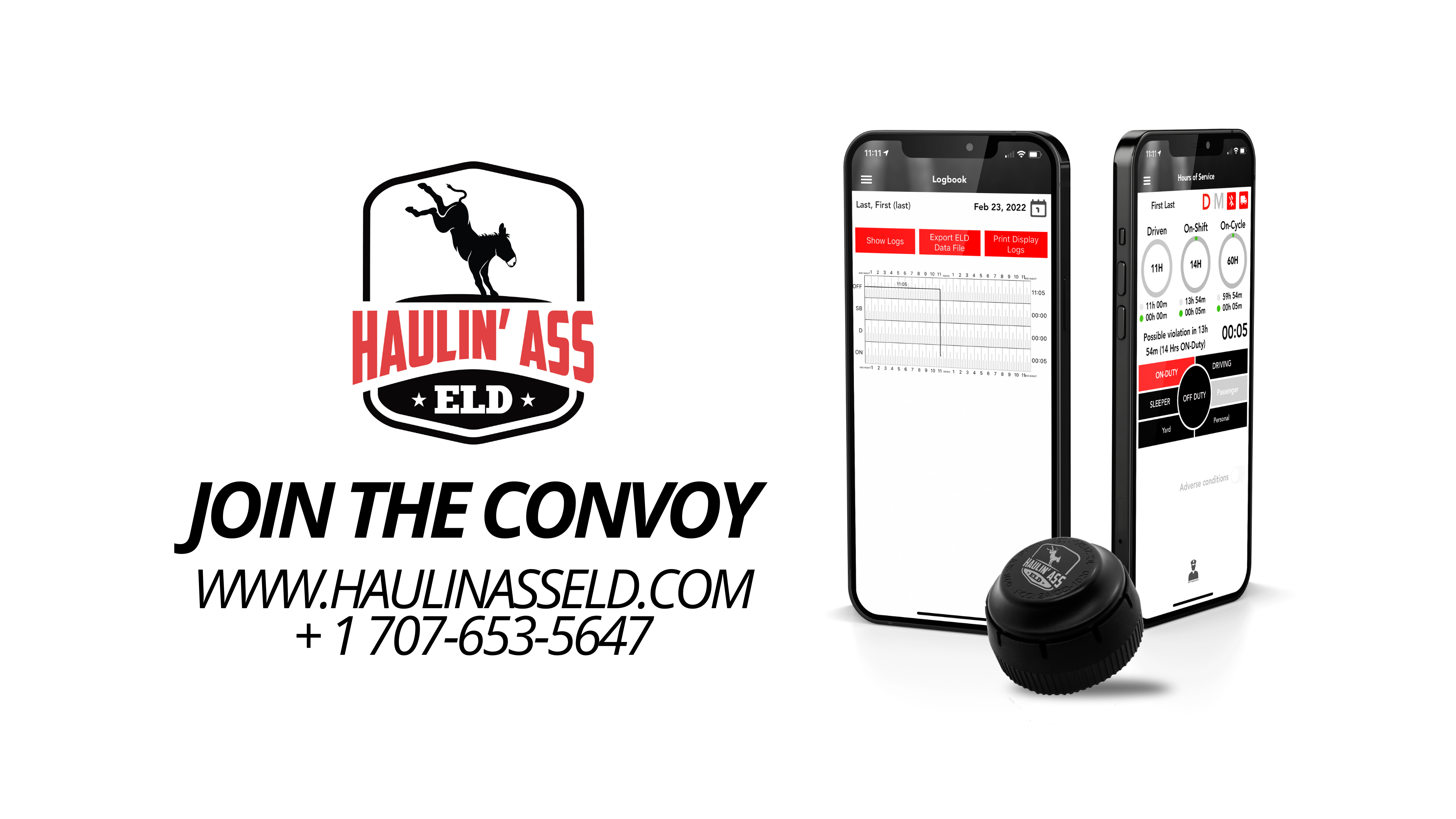 Data Transfer and Reporting Procedures

> Local (USB, Bluetooth) , Telematic (Web Service, Email)

Malfunctions and Testing

The following export methods are supported: Option 1—Telematics using both Wireless Web services and Email Option 2—Local using both USB2 and Bluetooth To submit the Output File to an authorized safety official, the driver selects the "Export ELD Data File" from the Logbook screen. Then the driver must select one of the following methods: ‐ Agent External Storage: The ELD will first verify the external storage device is compatible with FMCSA specifications by validating the contents of file "ELDUSBTX.TXT". Once validated, the ELD will save the data file on the FMCSA‐provided external storage device. ‐ Bluetooth Transfer: After selecting this option, the authorized safety official will pair and verify PIN with the driver. Once the Bluetooth devices are paired, the safety official's technology equipment will transfer the output file to the FMCSA website using Web services. ‐ FMCSA web service: This option securely communicates to FMCSA's end‐point ad obtains submission ID.

Certification Statement

Most malfunctions relate to a Diagnostic, but a malfunction is generated when the same diagnostic occurs for at least 30 minutes in the last 24 hours, (i.e. Low battery, network disconnection, low internal memory space, ECM data transfer failure, location sensor failure.) ELD MALFUNCTIONS: P‐ Power Compliance (related to diagnostic 1) E‐ Engine Synchronization Compliance (related to diagnostic 2, for instance multiple periods of no ECM data that, when added together are more than 30 minutes in the last 24 hours) T‐ Timing Compliance (the time on the ELD, compared to an external time source are different) Resolution: Make sure the date and time on your mobile device is properly set. DO NOT (manually) change the date or the time on your ELD L‐ Positioning Compliance (no location available, (related to diagnostic 3) Resolution: Go to your phone/tablet settings and make sure your location services are turned on R‐Data Recording Compliance (monitor storage capability to store records) Resolution: Make sure you have sufficient internal storage on your ELD. Delete files if necessary S‐Data Transfer Compliance (ELD records not able to be uploaded) Resolution: You probably don't have internet access. Restart your device (if needed) and confirm you reconnect to the network DIAGNOSTICS: 1‐ Power Data Diagnostic (ECM parameters must be available within 1 minute of powering the vehicle's engine on) Resolution: Make sure you are connected to the ECM device. On the menu, go to Scan Devices and select your ECM device. Make sure the diagnostic passes all engine parameters (all green) 2‐ Engine Synchronization Data Diagnostic (not all ECM parameters are available when the ELD records an event e.g. duty status change) Resolution: Make sure you are connected to the ECM device. On the menu, go to Scan Devices and select your ECM device. Make sure the diagnostic passes all engine parameters (all green) 3‐ Missing Required Data Elements Data Diagnostic (other required data e.g. location, coordinates) not available when recording an event Resolution: Make sure GPS module is enabled on your mobile device (phone/tablet) 4‐ Unidentified Driving Records Data Diagnostic (more than 30 minutes of driving without a driver logged on the ELD) Resolution: You are not logged on the ELD and vehicle moved for an extended period of time. Please login and select your Driving time.