Products with ELD "FHUSA1"
Below you will find a list of products with the ELD "" obtained from our database, including their available manuals, documentation, and images.
Click the corresponding vendor name to obtain additional information on the manufactorer, as well as contact information for further troubleshooting.
Fleet Hawks ELD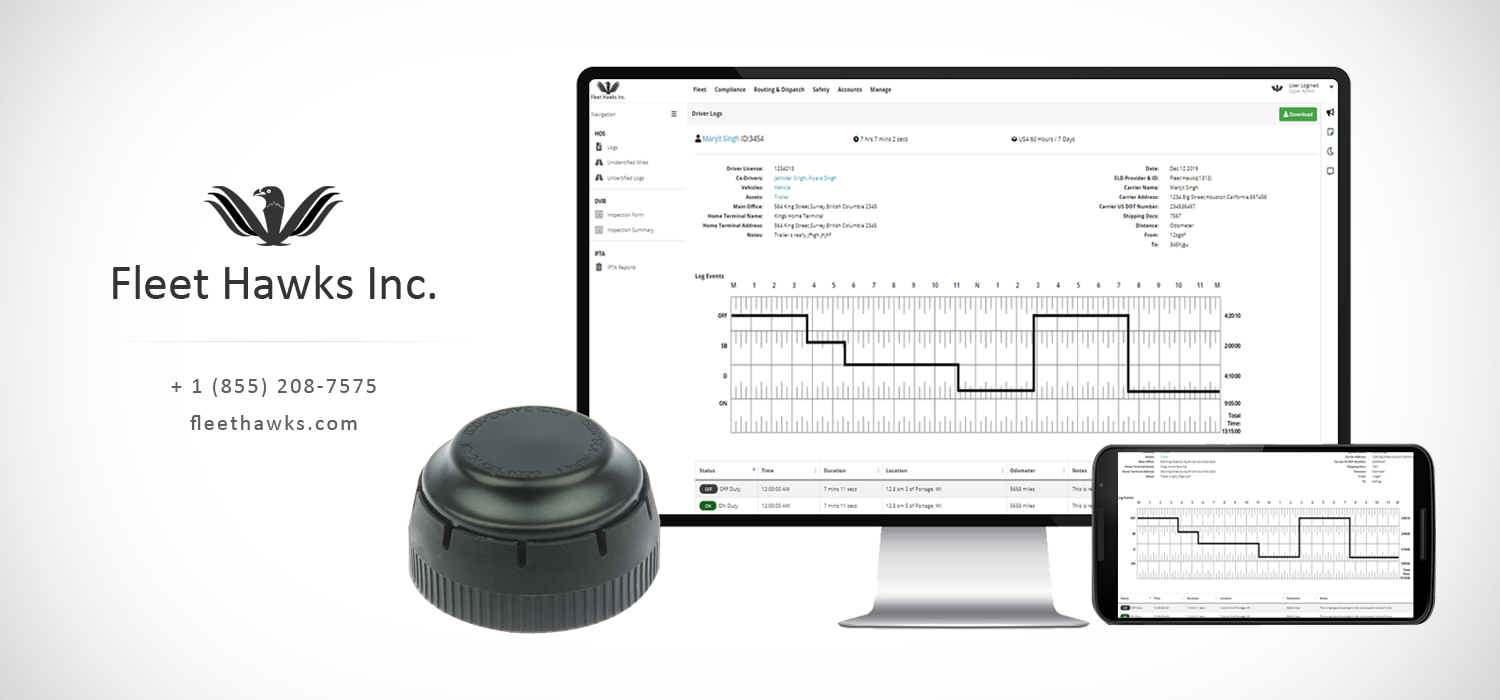 | Vendor | Device Name | Model Number | Approved Version |
| --- | --- | --- | --- |
| Fleet Hawks Inc. | Fleet Hawks ELD | FHI569 | 196 |
Data Transfer and Reporting Procedures

We support the telematics transfer methods specified by the FMCSA: (1) wireless web services and (2) email. We also have External Transfer method supporting such as Bluetooth Transfer. In Order to submit the Output File to an authorized safety official, the driver selects the "Export ELD Data File" from the Logbook screen. The driver, then, will select one of the following methods: - Email Transfer: An email will be pre formatted with the .AES file attached to it. The destination email address will the one provided during this registration process - USB Transfer: The ELD will wait for the driver or safety official to connect the external storage device and will automatically enter Mass Storage mode. After the external storage device is detected, the driver will be prompted to re-authenticate before the transfer of the output data file is started - Bluetooth Transfer: After selecting this option, the authorized safety official will pair and verify the PIN with the driver. Once the Bluetooth devices are paired, the safety official's technology equipment will transfer the output file to the FMCSA website using Web services.

Malfunctions and Testing

Our software continuously monitors our ELD system for compliance with the data requirements of the mandate. It supports detection of all malfunctions and diagnostic events specified by the ELD mandate including: power, engine synchronization, timing, positioning, data recording, data transfer, required data elements, and unidentified driving, as required in section 4.6 of the mandate.

Certification Statement

Our Product and Engineering team has gone through entire ELD test procedure and tested the environment Live in order to ensure we have built the product to be compliant. Hence, we Certify that we have build the ELD as per the technical procedure and it is working as expected.